Fried Chicken Headquarters, Henderson, Auckland
Fried Chicken
Made Fresh To Your Order
GREAT NEWS! WE HEAR YOU..
We are adding more chicken pieces – FOR THE SAME PRICE!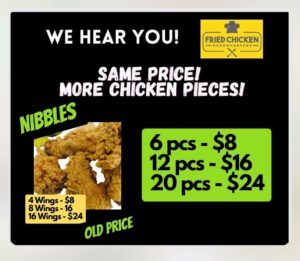 Welcome to Fried Chicken Headquarters
01
About Us
We are a small food business specialised in freshly
cooked fried chicken.
FRESH ONLY-NO PRECOOKED FRIED CHICKEN.
04
Testimonials
Delicious food! Been going here since he opened
would definitely recommend this place if you're after something light but not too heavy. bought the hot buffalo nibbles, teriyaki nibbles, tacos, nashville spicy burger, chicken classic mayo burger, fries and curly fries. very good the spice can be better but that's only cause i love spicy. overall good food and service!! 🤩
One of our favourite fried chicken stops. We travel from Mt Albert for takeout. Food and service is great everytime and the chicken travels well
Highly recommend. Food is delicious and always fresh. Great, friendly staff.
This place is absolutely mind blowing!!! Every single thing we ordered was amazing! I wish I tried it sooner, impeccable service to go alongside the epic tasting
treats 👌👌👌 can't wait to return again !
Thank you
Got the spicy burger from these guys last week, absolutely solid burger and nicely cooked fries. Highly recommended, best fried chicken in the west.
Possibly the BEST fried chicken burger in Auckland. FCH doesn't skimp on their fresh ingredients and care that goes into making, presenting and packaging their food. Yum!
Love the two experiences with these guys. The chicken burger is absolutely delicious. Good size, tender juice chicken, nicely fried, the veggies inside are fresh and tasty. Definitely the Bomb !
Honestly one of the best fried chicken place I've been! I've been to fried chicken festival and for years I've been exploring different fried chicken but this place is LEGIT! It's crispy and crunch with thin batter (not floury like KFC), juicy but not too oily. I have been on free range chicken for a while, it's guilty free from eating antibiotic chicken. 😋 Package comes will all eco friendly packaging (paper bag, cardboard box). Honestly got both taste and good influence to the environment. It was meant to be hot, but personally could get a bit more spicy 😏. Definitely recommend, so glad I found this place in neighborhood, will be coming for seconds soon. Nom Nom..
WOWZERS !!!!! SERIOUSLY !!!!!
Super Amazing thanks to Cheff Harry and his awesome assistant who give a lil treat in the bag like this is what qorking with passion includes 😀 that lil extra thought a message and smiley face seriously lightened my day !!!
Im a Chicken n Chip gurl for realzz but top that gravy OMGeee 👌 So way to go FCH-Glendene you Rocked my World today.. Onzz KFC really need to step it up.. Music Viben yeh man thats what we need
Best chicken burgers ever! I would order and recommend hands down. I have been eating this since they launched last year on Uber eats and can't hesitate to order it any time i am hungry. We tried double patty burgers today and what a fulfilling treat they are! Highly recommended!!!
Five stars from the great service to the food. So cheap for what you get really, you can taste the freshness of the food from every bite. The burger was so well put together, looked like something from a restaurant. Only a five minute drive from me so definitely a new staple in my household. Juiciest most flavourful chicken! Yum. Thank you for a delicious experience and the friendly service
02
OPEN 7 DAYS
3pm – 10pm
05

Get In Touch!
Please contact us by calling us on our number or you can click here